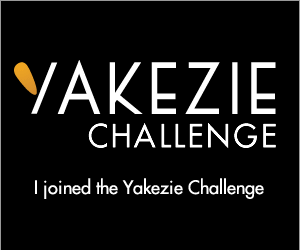 Yakezie is the most effective blogging community in the blogiverse. I don't make that statement lightly. Yakezie is a powerful tool in the hands of a newbie personal finance blogger, which is why I'm taking up the Yakezie Challenge.
The Brilliance of Yakezie
Yakezie is all about Alexa.
Alexa is a website ranking system driven by how many visitors with an Alexa toolbar visit a given site. These rankings are noticed and respected by media and bloggers alike. That's why Yakezie members and challengers work together improve their rankings.
While Alexa is universally recognized as a useful ranking system, the system has a serious flaw. Websites with a great deal of Alexa traffic can easily outrank sites that have much larger volume of overall hit counts. For example, I write for two political blogs that earn between 1 and 2 million hits a year and their Alexia rankings are 129,000 and 854,000. This volume of traffic would normally rival some of the larger personal finance blogs. However, many Yakezie members with lower traffic volumes easily outrank in Alexa. That gives you an idea of how effective the Yakezie community is in seeking and attaining a better ranking.
Even more impressive are the numbers of young blogs that have been able to break the 200,000 ranking in their first year writing. Andrea at So Over Debt has both an excellent blog and Alexa ranking to prove it. Even though she started blogging last February she is already under 120,000 in ranking and a full-fledged Yakezie member.
Yakezie is also an ideal community for new bloggers. Since all the members are gaming for a higher Alexa ranking, every new blogger with an Alexa toolbar is valuable to the community. Although there are more benefits to members, even challengers can participate in the community's marketing activities like blog carnivals.
No matter how great your content might be it will never be read if readers don't know where to find it. A strong Alexa ranking gives you exposure to new traffic and credibility with the larger bloggers. I'm sure that many have boosted their ranking on their own, but Yakezie has a proven strategy and a friendly community.
I'm Taking the Yakezie Challenge
This is why I'm taking the Yakezie challenge. I must exceed a ranking of 200,000 in six months to be an official member. As of today, my Alexa ranking is a little over 3 million. I have my work cut out for me, but succeed or fail, I'm certain that participating is going to help increase Smart Family Finance's readership and visibility.
Like this Article? Subscribe to Our Newsletter
Google+ Comments